Friend.tech, the decentralized social app built on layer 2 Base, has attracted a lot of users recently. Only over 10 days after launching, the platform has seen over 100,000 users with an impressive revenue of approximately $3.3 million. Moreover, the average daily TPS on Base has risen by 156% in the past week, and Friend.tech was attributed to this surge.

Friend.tech is a social platform that provides users with access to private groups and communication with KOLs. Users are required to purchase "shares" of specific KOLs to gain entry to their groups. If they choose to leave the group, they can sell these shares to other users. Essentially, KOLs or influencers monetize their reputation by selling shares and offering buyers perks, in this case, a perk is access to exclusive groups. Furthermore, the platform plans to motivate users through airdrops in the near future. Currently, a number of influencers on platform X (formerly known as Twitter) have openly shared that they have earned substantial amounts of ETH.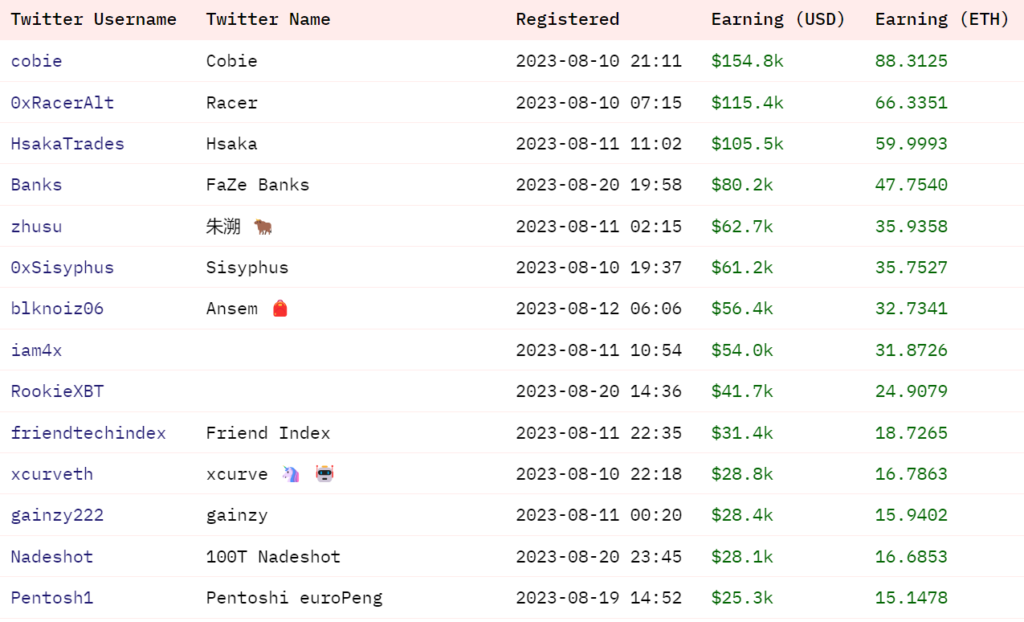 https://dune.com/cryptokoryo/friendtech
With its "viral" status, Friend.tech once generated protocol fees amounting to $1.4 million, surpassing other top platforms such as Uniswap or Tron, and ranking behind only the Ethereum blockchain and Lido protocol. Part of their success was attributed to launching on Base, one of the most notable layers 2 recently. With the on-chain summer program, they attracted significant inflow. Following only two weeks, the total of funds bridged to Base exceeded $240 million, the Total Value Locked (TVL) reached $180 million, impressive figures even in the midst of a bear market.
On the flip side, Friend.tech has faced criticism from the community. Banteg, a core contributor to Yearn Finance, published a repository that contained information about over 100,000 users of Friend.tech, including their Base addresses and corresponding Twitter usernames. According to him, 101,183 had granted Friend.tech permission to post on their behalf; they might have agreed to the terms without complete understanding. Moreover, the investigation by the Twitter account Spot On-chain revealed that it was Friend.tech's API that had inadvertently exposed user information.

After this news, the total number of transactions has gradually decreased, resulting in a decline in trading volume.
The application currently lacks a privacy policy. Upon registration, users grant Friend.tech permission to view all posts and accounts that they can see, including protected accounts. Users also authorize Friend.tech to make posts and reposts from their accounts. This decentralized app has garnered attention from NBA stars, and some cryptocurrency influencers, and has also attracted investment from the venture capital firm Paradigm. Friend.tech has swiftly accumulated a total volume of 43,064.8 ETH, equivalent to over $70 million, through 1.8 million transactions since its inception.