MakerDAO, the issuer of the DAI stablecoin on the Ethereum blockchain, has witnessed a rapid increase in its market capitalization since the start of this month, with over $1 billion worth of DAI tokens minted within just a few days. Currently, the total amount of DAI in circulation has surpassed $5 billion. The DAI stablecoin had experienced a prolonged period of decline, causing its market capitalization to steadily drop to a low of $4.4 billion from its peak of $10 billion in February 2022.

https://daistats.com/#/overview
Following the introduction of the Enhanced DAI Savings Rate (EDSR) program, the interest rate for savings accounts surged to 8%. This high yield stood out compared to other platforms in the Defi Space, attracting several large investors to deposit collateral and mint DAI. This influx caused the DAI Savings Rate (DSR) vault to grow from $344 million to $1.4 billion by the beginning of August. However, only a few days after its launch, MakerDAO reduced the interest rate to 5%. Explaining this decision, Rune Christensen, the founder of MakerDAO, mentioned that the elevated yields were causing borrow arbitrage, where users borrowed Dai at 3.19% and then invested it to earn 8% yields in the EDSR. Most of the funds entering the EDSR were from large investors, benefiting ETH whales more than regular DAI holders. Additionally, the funds allocated for EDSR payments were depleted much faster than anticipated.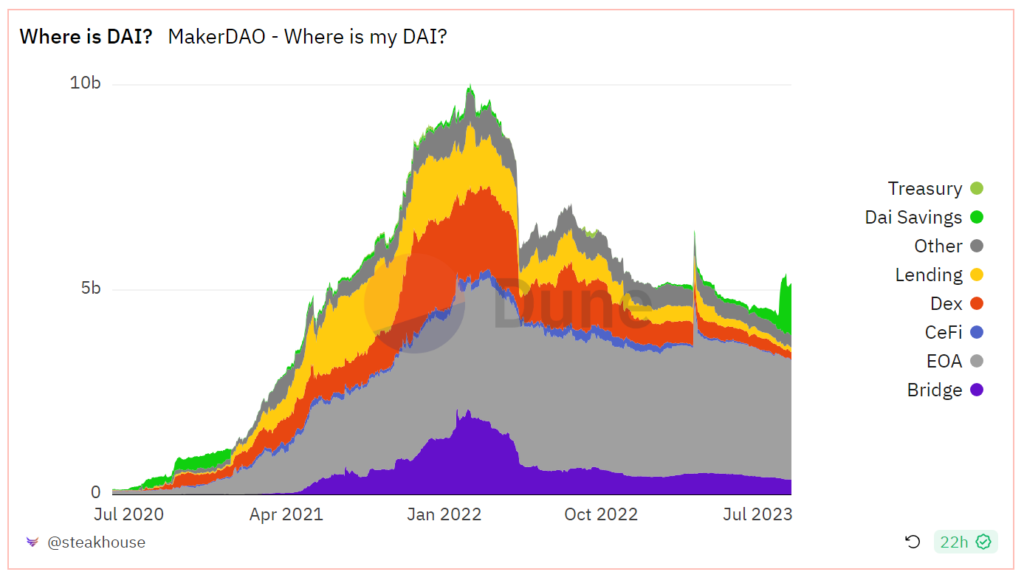 After this decision, the DAI savings amount decreased to $1.16 billion due to a few whales withdrawing DAI from this vault.
Alongside rising supply, the protocol's annualized revenue also hit a two-year high of $158 million. This notable revenue surge was attributed to short-term U.S. Treasury yields exceeding 5% and the bonds accounting for 58% of the revenue of MakerDAO.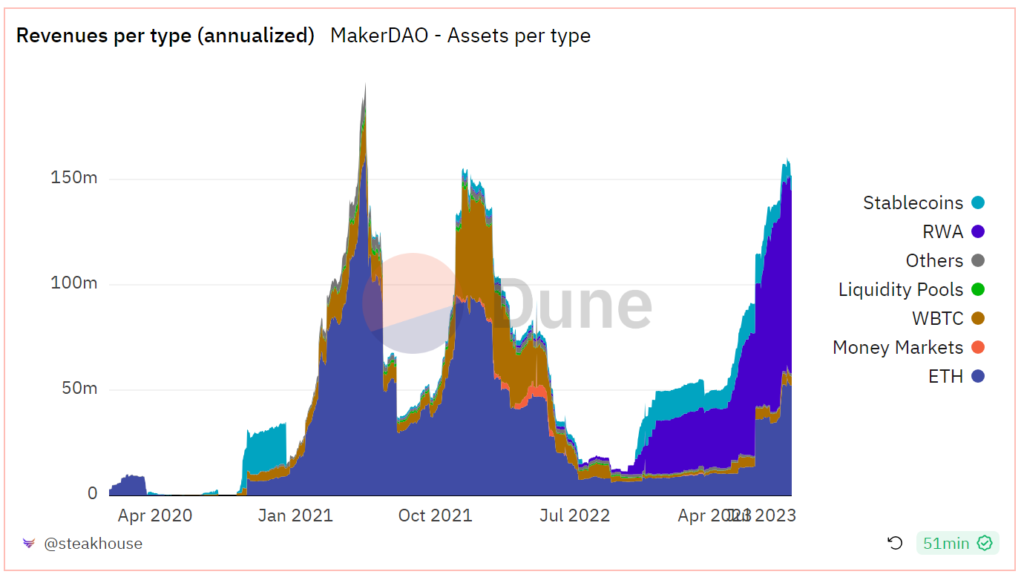 RWA and ETH have an important role in MakerDAO revenue.
Presently, MakerDAO collateral vault has $2.5 billion of real-world assets (RWA), with the primary three vaults including Monetalis Clydesdale, BlockTower Andromeda, and Coinbase Custody. In October 2022, MakerDAO used the collateral to procure $500 million worth of government bonds through a vault proposed by Monetalis Clydesdale management firm, and by the end of June, an additional $700 million was acquired, elevating the total value of this vault to $1.2 billion. The second-largest vault in the protocol, BlockTower Andromeda, with a value of $650 million, gained approval for raising the debt ceiling to $1.28 billion. And Coinbase Custody, Maker earns a yield on storing $500 million USDC at Coinbase Prime. Furthermore, MakerDAO extended loans to financial institutions, including Huntingdon Valley Bank and Societe Generale-Forge, the crypto-focused subsidiary of the French banking behemoth.
The strategy of diversifying profits from reserve assets, supporting a 5 billion stablecoin DAI, not only serves to mitigate risks arising from events like USDC depeg but also aids the protocol in earning stable returns. As real-world assets (RWA) increasingly become an essential component within the Defi space and considering that bond yields are currently surpassing the general benchmark, investing in traditional financial tools showcases MakerDAO's foresight.