Myanmar's shadow government, the exiled National Unity Government (NUG), has extended its support to the launch of the Spring Development Bank, the country's first-ever crypto-based financial institution. Scheduled for a soft launch on July 22, the Spring Development Bank is set to operate solely on crypto and blockchain technology, offering potential access to financial services and funding to both the 55 million Burmese residing in Myanmar and the two-million-strong Burmese diaspora living and working abroad.
The bank draws its name from the Spring Revolution, the opposition movement led by the NUG against the military junta, the State Administration Council (SAC), which seized power in Myanmar in February 2021. Built on the Polygon network, the bank's primary objective is to streamline domestic and international payments, enhancing efficiency, and providing access to a wide range of financial products on an international scale.
A Spring Development Bank official, who requested anonymity for security reasons, explained that cryptocurrency was an evident solution to offer financial support to Burmese citizens and the exiled government. Although not directly launched by the NUG, the bank has received full support and resources from the shadow government and operates under the regulatory oversight of the NUG-controlled interim central bank of Myanmar.
The bank aims to address the high fees levied on remittances sent to the country through traditional channels, which can reach up to 30%. By utilizing the Polygon ecosystem, the bank seeks cost-effectiveness and long-term sustainability.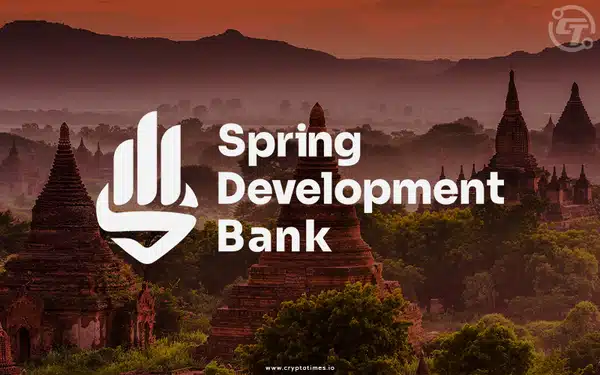 Additionally, the Spring Development Bank will issue several new fiat-pegged stable coins, including the Myanmar kyat, Thai baht, Singapore dollar, and the U.S. dollar. Through the bank's currency swap feature built on UniSwap V3, users can exchange stable coins seamlessly.
Given the political situation in Myanmar, where showing support for the NUG could lead to violent repercussions and imprisonment, the bank has designed its user interface as a "web-only" platform. Users are encouraged to access the interface via an incognito window to ensure their privacy and security.
The NUG declared the U.S. dollar-pegged stablecoin Tether (USDT) as legal tender on December 31, 2021, aiming to facilitate international trade. While the NUG received recognition from various international entities, the United States has yet to formally acknowledge the exiled government. The launch of the Spring Development Bank signals a significant development in Myanmar's financial landscape, opening up possibilities for greater financial accessibility and autonomy within the country and its diaspora.