Friend.tech, the decentralized social platform, has achieved several new milestones, defying earlier predictions of its demise by the community. According to data from Dune Analytics, the platform's total value locked (TVL) surpassed 30,000 ETH ($50 million) on October 2nd, before recently decreasing to 27,000 ETH ($45 million). Fees generated since its inception amount to $38 million, with daily fees exceeding $1 million, surpassing the majority of other protocols and ranking only behind Ethereum, Lido, and Tron.
In addition to the TVL and revenue figures, another force to be reckoned with is "sniper bots." These bots, numbering nearly 500 in total, have generated $5.9 million in revenue (15% of the total fees) for their owners. The address 0x1a98, stands out with remarkable performance, amassing a profit of $648,000 by sniping only 23 subjects.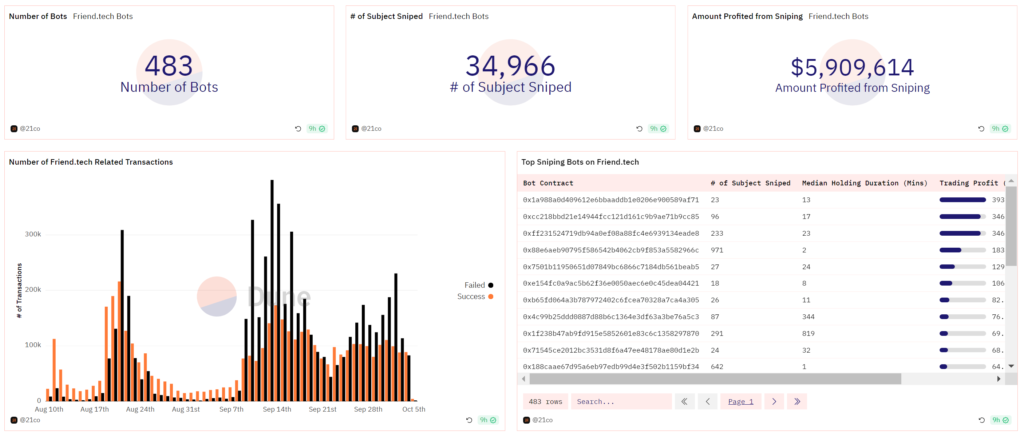 The Sniper bot is designed to employ the 'sniping' technique, aiming to control over the high-value profile shares. Usually, account owners have to purchase the first share before other users can acquire it. However, to swiftly secure control of these shares (buy at Genesis and sell to other users at a higher price), most of the bots preemptively purchase them ahead of account owners. This behavior resulted in a significant number of failed transactions on the platform.
Despite reaching impressive milestones, four users reported that their accounts were drained in SIM-swap hacks during the early part of this week, resulting in a total loss of 109 ETH. In the last 24 hours, the same hacking method targeted four more user accounts, resulting in the loss of 234 ETH. This incident caused panic among users, leading them to redeem their shares and withdraw their funds, ultimately resulting in a decrease in the total locked of the platform amount over the past few days. However, at present, the platform maintains a daily trading volume of $10 million and welcomes 5,000 new users daily.
The success of Friend.tech has paved the way for the emergence of several social platforms on other blockchains including Stars Arena on Avalanche, Alpha on the Bitcoin network, Friendzy on Solana, Fan.tech on Mantle, and Post.tech on Arbitrum, most of which forked from Friend.tech.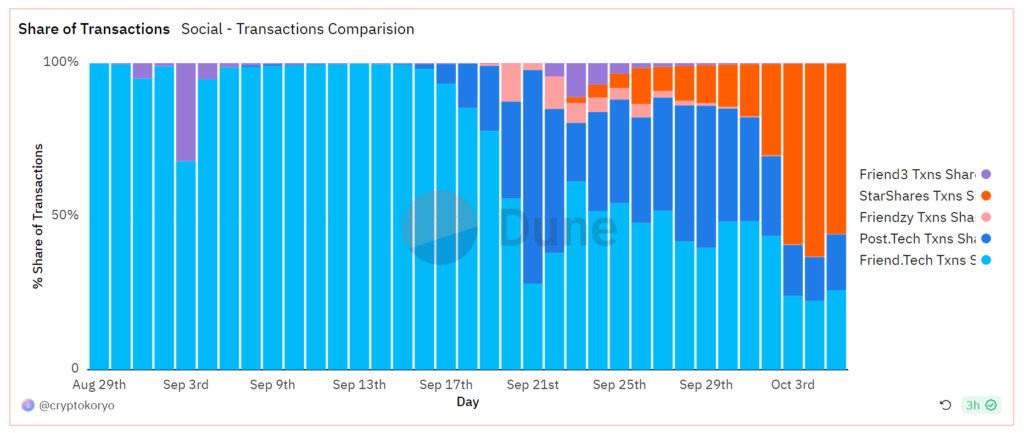 https://dune.com/cryptokoryo/social
Stars Arena experienced a rapid surge in transactions over the course of several days, claiming the top spot in daily active users, surpassing other dapps on the Avalanche network. On-chain data revealed that more than 10,000 unique active wallets interacted with Stars Arena, with trading volume exceeding $1.5 million in the last 24 hours. However, despite this impressive activity, the total value locked remained at only $1 million during the past two weeks since its inception. The emergence of Stars Arena has garnered the attention of the community, Avalanche network witnessed transaction numbers surge from 150,000 to 250,000 over the past two weeks.
At present, FriendTech remains the largest project in the overall SocialFi niche in terms of daily volume and revenue.